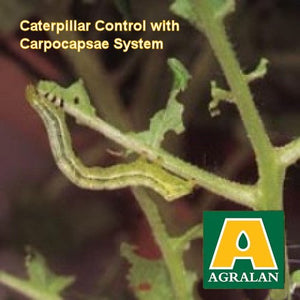 Agralan Fruit & Vegetable Protection Nematodes
£1299

£12.99
Tax included.
Shipping
calculated at checkout.
---
---
Agralan Natural Fruit & Vegetable Protection Nematodes are the simple solution to control cabbage root fly, cutworm, onion fly, sciarids, gooseberry sawfly, thrips, caterpillars and many more destructive pests. 

Containing a unique blend of nematodes, this pack is an extremely effective way of controlling multiple pests throughout the season, giving you strong and healthy crops. It reduces the difficulty of identifying and controlling specific pest problems. 
Apply to soil when the temperature is above 12°C
1 pack treats up to 60m²
Cutworm and Onion Fly 
Apply April to July, after planting. Repeat fortnightly throughout the growing season when pests are present. Apply as a drench around the roots of plants or where the pest is present. Fortnightly application maintains control and catches subsequent generations. 
Sciarid
The Sciarid is primarily a greenhouse pest. Apply when pest is present and repeat as necessary to control subsequent hatching Apply to soil in pots, growing bags and open soil. 

Caterpillars and Gooseberry Sawfly
Apply as soon as the caterpillars are first seen applying to all leaf surfaces where the pest is present. Make sure to spray pests with a solution as caterpillars not directly sprayed will not be controlled. Repeat as necessary. 
Codling moth/ Plum fruit moth 
Pheromone traps are the best way of tackling this orchard pest. However, after severe infestations, applying these nematodes in Autumn to the soil around the base of the trees and up to one metre up the trunk using a watering can or sprayer can help reduce problems in the following season. 
Carrot fly 
Covering vegetables with Agralan Enviromesh is the best method of stopping this pest's larvae, which feed on the roots of carrots, parsnips, celery, celeriac and parsley. Where this is not practical, for example for those growing a small number of these vegetables among others, applying the nematodes with a watering can or hose end feeder to soil can provide control.